Camping Key Europe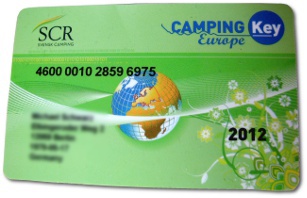 In 2012 the Camping Card Scandinavia (CCS), which was primarily valid for Norway, Sweden, Denmark and Finland, was replaced by the Camping Key Europe (valid for the whole of europe). There are two offers available under this name. A green plastic card, similar to the old Camping Card Scandinavia, which also includes personalized data and is regarded as proof of identity. And a yellow paper - discount card, offered by the ADAC and ANWB camping guide. The information on this page relates to the green camping card.
The Camping Key Europe is the result of a collaboration between different international organizations and provides the following advantages for owners:
simplifies and accelerates the check-in and -out at campsites (no ID required)
price reductions for camping pitches or cabins at campsites (if offered by owner)
discounts for ferries, bridges, museums, theme parks, restaurants, etc.
liability insurance at the campsite
validity stamp
The card is valid for 1 year and may be renewed every year with a validity stamp for around $20.
buy / order - Camping Key Europe
You can buy the campingcard directly at a campsite for around $20 (in this case you will get a temporary paper card and the right card later by mail) or order it at the internet. But you should calculate 3 weeks for this order.
The following websites are selling the Camping Key Europe:
Current information about the Camping Key Europe can be found here: campingkeyeurope.se